Sponsored by EAPC | Architects Engineers
Your Holiday Tradition Starts Here
Welcome to The Holiday Light Show at Country Apple Orchards, just south of Sioux Falls. In the spirit of Christmas and building fun family traditions we have transformed the historic Beaver Creek Chapel and Eggers School House into one of the area's most dazzling Christmas Light Shows.
Welcome To The
Holiday Light Show
This isn't your grandma's light display, turn the music and the bass up for this action-packed sensory event that you won't want to miss. Get your tickets online, pick your show time, pack your family and friends, and pull in and park before the show starts. Think drive-in movie theater meets Christmas light show.
Is the show a drive through or do we get out of our cars?
Similar to a drive in movie you will pull up park your car, turn off headlights, tune your radio to 87.9 FM and enjoy the 30 minute light show set to music.
Is your holiday store and tree lot open during the show?
No, the holiday store will be closed for show times. Pack some snacks and hot drinks for your enjoyment.
Do you allow Party Busses?
Yes, Party Busses and Limos are $50 and are a great way to spend a fun night with family and friends.
Ticket Information
❄️ 🎄 ❄️ 🎄 ❄️ 🎄 ❄️ 🎄 ❄️ 🎄 ❄️
Cost – Value for an Unforgettable Experience
Wednesday & Thursday – $20 per car
Friday, Saturday, & Sunday – $25 per car
Are there specific viewing times for the light show?
Yes!
November 24th – December 31st.
Three shows a night Wednesday through Sunday at 7 pm, 8 pm, and 9 pm.
Can we buy tickets at the venue or is online booking necessary?
Tickets will be sold on our event website ONLINE ONLY :)
Contact Info
Where to Purchase?
Christmas Trees & Holiday Store
Wednesday – Friday 3pm – 6pm | Saturday & Sunday 11am – 6pm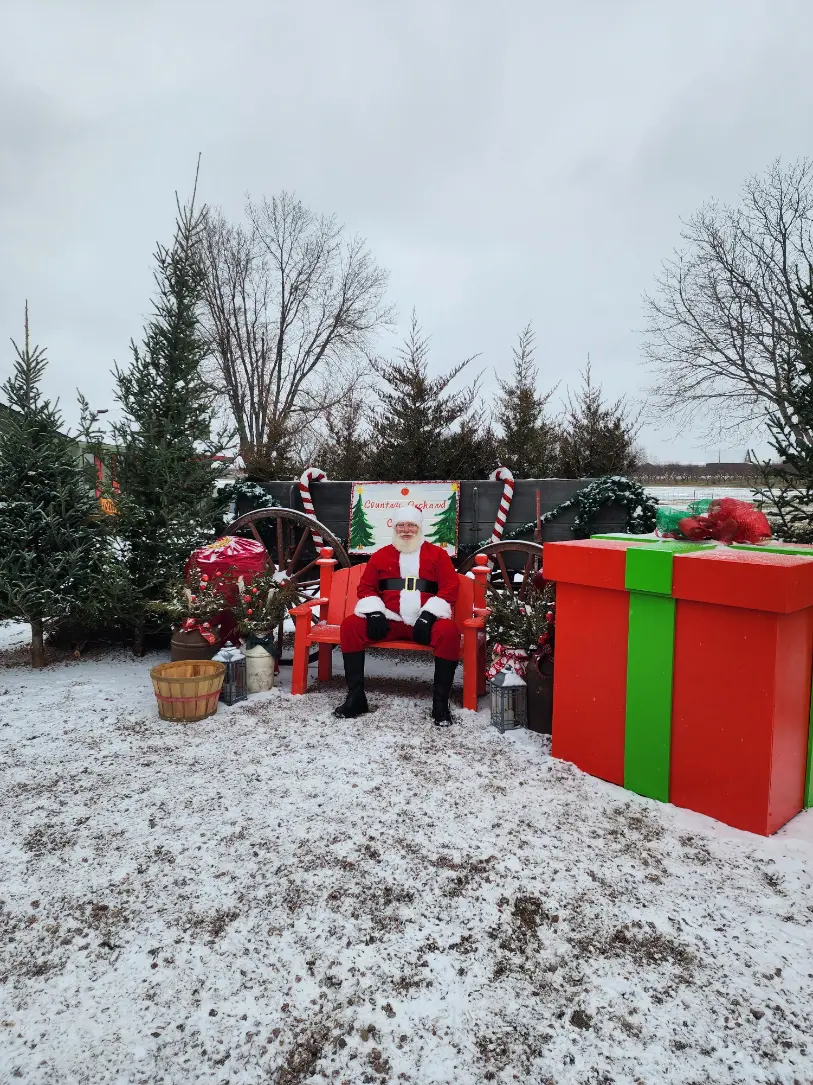 We are excited to transform our fall pumpkin patch and store into a fresh-cut Christmas Tree lot and Holiday store. The John's family has passed the torch to us after 30 years and we couldn't be more excited to do this with our family and kids.
Nothing beats the smell of a real tree and the memories made while finding the perfect tree. Our tree lot has something for everyone and includes Fraser Fir, Balsam Fir, Cannan Fir, Tannenbaum Fir, White Pine, Scotch Pine, and Blue Spruce all of varying sizes.
Are you looking for that 12-14ft Griswold statement tree? We got you covered. We are happy to shake the needles, give a fresh cut, net, and load your tree to your vehicle. There are some great family photo opportunities in the trees along with free hot cider and the bonfire is always lit. Hurry in before they are gone!
The Holiday Store also has some great gifts and all the supplies you need to decorate for the Holidays. We offer wreaths, handmade crafts, baked goodies, spruce tops, roping, and pine boughs to get your holiday season started off right.
Oh, and don't forget some of our famous Country Apple Orchard Double Crust Apple Pie.